November 3, 2019 - TCS New York City Marathon
Support
Let's change the world for people with intellectual & developmental disabilities.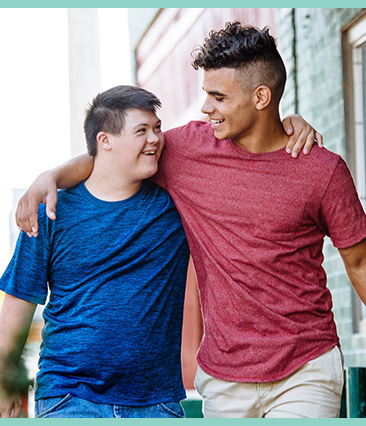 How it works
Best Buddies New York is honored to again have the opportunity of being one of the New York Road Runners' official charity partners for the 48th running of the TCS New York City Marathon.
By running the TCS New York City Marathon with Team Best Buddies, each stride you take brings us closer to a more inclusive world. Team Best Buddies members commit to fundraising a minimum of $3,500 to further our mission to create opportunities for friendships, employment, and leadership for people with intellectual and developmental disabilities.
All Team Best Buddies members will receive:
Guaranteed entry into the 2019 TCS NYC Marathon (if you don't get in through drawing)
A personalized fundraising page with tools to help you easily solicit donations to meet your fundraising goal.
Team Best Buddies running singlet and swag bag
Regular updates with important race information, training tips, and inspiration
Opportunity to meet program participants, make a difference and raise awareness
Free entry for you and a guest, at the Best Buddies Friendship Walk in NYC — November 2, 2019
Additional Fundraising Incentives:
As you raise funds for Best Buddies, the following incentives will be provided at specific fundraising benchmarks.
$2,500 by 7/15/2019
$50 Gift Certificate your choice of Running Gear or Spa Service
$3,500 by 8/15/2019
Extra Best Buddies Gear
$4,500 by 9/15/19
Two Grand Stand Seat Tickets

Sign Up
Self-explanatory.
Easy peasy.

Form Your Crew
Recruit friends and family to join you.

Fundraise
Every dollar raised benefits local Best Buddies programs.

Run
We'll see you at the finish line!
Supporting Local Programs
Funds raised through Team Best Buddies events benefits Best Buddies – the world's largest organization dedicated to ending the social, physical and economic isolation of the 200 million people with intellectual and developmental disabilities (IDD). Our programs empower the special abilities of people with IDD by helping them form meaningful friendships with their peers, secure successful jobs, live independently, improve public speaking, self-advocacy and communication skills, and feel valued by society.
The IDD community that Best Buddies serves includes, but is not limited to, people with Down Syndrome, Autism, Fragile X, Williams Syndrome, Cerebral Palsy, traumatic brain injury and other undiagnosed disabilities.
Learn More
For sponsorship opportunities and other event inquiries, please contact: